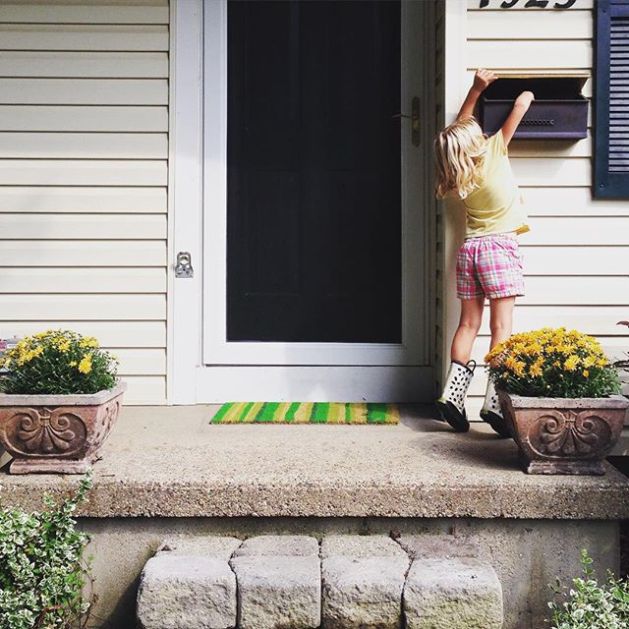 I lugged a ladder around my house Monday morning, spraying vinegar water on the windows and wiping them clean with newspaper. It was the Sunday paper, and that matters because it wasn't just the paper in my hands that left its ink on my fingers. I kept the front section on the front stoop under a cup of tea. I wasn't ready to let those pages go.
Those stories, that topic: Schools of Choice. Here she goes, Dave said as I read through the stories with a pen on Sunday. Here I go.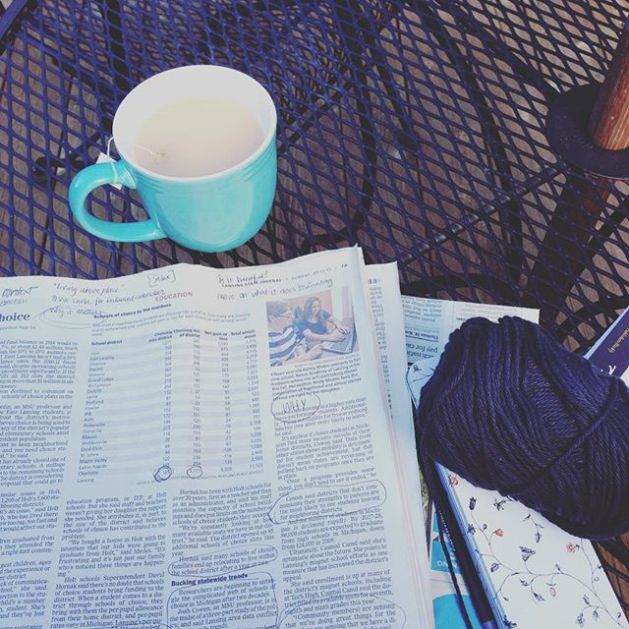 Take me out for a cup of tea and we'll dissect the gaps and flaws in the reporting, the story that wasn't, the story that should've been. Take me out for dinner and dessert and we can talk about the war in my soul over participating in Schools of Choice and living in Lansing. Stay for a weekend and we can maybe start to talk about what's right for your family (and for good measure, maybe start praying about next year now).
Come move into my neighborhood and we can start to do something about these things here, though.
And maybe most of those filling-out-school-application-level choices should happen around dinner tables or coffee tables with your most trusted people.
Because there is no right answer: there isn't. There's only what God's doing in your life and how you're responding to that. But, so as not to let you off the hook: know that your choices — they have implications. Lansing know this. Lansing lost 3,171 of us to the Schools of Choice program. It has 11,525 left. That's a big number.
This matters. This hurts someone. Lansing is not the blameless victim, either. This is complex. Let's get tea.
So … come to my church (or go to yours); worship with me (or your community) and then — then we might get a hint of what we're to do about the tension between living in a place and really wanting to be in this place all the way: work, play, worship, school.
I chose (with my church family, my real family, and my prayers) to enroll my kids in a suburban district's schools. Why? In a few seconds: Sycamore Elementary offers a balanced calendar (I love the stress-and-rest rhythm; it mimics Sabbath rest). Its superintendent is a dynamic leader. Everyone's warm, quick to communicate: teachers, secretaries, principals. My kids know what's expected of them and they feel challenged academically. The student body's diverse and economically equivalent to my neighborhood (free- and reduced-price-lunch-eligible students' figures are about the same as the school across the street from us).
But I can still lament that the school district in which I reside — the one from which I took about $15,000 in per-pupil grants — isn't all these things I care about. (And I can lament that I'm not there anyway. Much dying to my own privileged ideas can still be done.)
We got this broken-urban-schools thing, friends, because of all the big reasons: suburbs were born; people fled city districts to escape "city problems." Those who stayed aged or didn't have as many children, or their children moved out. Those who stayed were often poor.
(And … schools of choice programs often mimic previous generations' city-flight patterns, I'd wager. Maybe the schools-of-choice program was the grace that let me move into this adorable, affordable, established city neighborhood? Again, let's get tea. This isn't prescriptive.)
The only prescriptive, must-do from this whole holy disdain: be as much as you can where you are, and watch for God. Then join Him there.
Maybe this moment is merely a bench along the path where I rest my disdain, my frustration, my lamentations before rising to ask some tough questions. What are we doing about it? What are we who live here going to do about it? Are we just going to leave, or is there something we can do? How far will our lamenting carry us?
How's your neighborhood school? If you don't know, find out. Start there. How can we learn to love these schools – not love "on" them like they were mission cases, but really know them and advocate for them? How can we, church? I'm asking because I don't yet know all the way and I'm asking you to join me in figuring it out.
We're all figuring it out: my teacher friends. My school psychologist friend. My pastor friend, my author friend. Their new monastic friends in Durham, N.C. My other pastor friend. My priest friend. My social work friends and my jobless friends and my journalist husband.
Our common ground is lament: Our crying to God in anger and despair: our complaints. Then our impatience as we wait for a response.
And we trust one's coming, because this Guy comes through. We can trust This Guy, this God character.
And of course, God's already at work here. When we show up, we're just participating in what He's already doing. The neighbors of what is now Mt. Hope STEAM Magnet School in the Lansing Public School District have pulled weeds, bought basketball hoop nets, and mentored kids for years.
When Sycamore Creek moved into the vacant church building across Mount Hope Avenue and asked to meet the school's principal, we were only joining those small efforts. A few of us on staff toured the fourth- through sixth-grade school last month. We met the principal, an energetic and passionate woman named Liz Jones. She's dynamic. She's struck me as a connector in the Malcom Gladwell meaning of the word, talking about partnerships. Our church is probably going to partner with the school this fall for a one-day service opportunity, and a few of us are pursuing some mentorship stuff, too.
It's a small thing (hey, that'd make a great book idea – oh wait, that's in the works).  But it's something, and who knows what that something will lead to. (Man, we Christians love that theme, don't we.)
Maybe we start small because we don't know what else to do and doing nothing is scarier. Me.
***
Local folks & the interested: the Lansing State Journal links: (1, 2, 3, 4).
Disclaimer: my husband works at the LSJ, and my opinions aren't necessarily his. He has no public opinion. #journalismethics